Come join us for a talk with author Rev. Scotty McLennan '70 presented by the Yale Club of Silicon Valley.
Scotty McLennan '70
author
JESUS WAS A LIBERAL
Reclaiming Christianity for All
Scotty McLennan claims that Jesus championed a progressive social vision of the future, rationality, tolerance and freedom from religious authority. In modern terms, Jesus was a liberal. Today, the press frequently talks about a culture war between the religious right and the secular left. In the middle – forgotten or maligned – are liberal Christians. They represent at least twenty percent of Americans, and perhaps as many as fifty percent. This book seeks to give them a voice and to reclaim "liberal" as a positive word. Importantly, it also tries to build bridges to conservative and evangelical Christians as well as to those impressed by the new best-selling atheist books.
"[A] timely and powerfully reasoned argument that it's time for liberals to reclaim ownership of Christ as he was - an outlier, a passionate but rationalist revolutionary who spoke to the best in us." - Garry Trudeau, author of Doonesbury
The Rev. Scotty McLennan is the dean for religious life at Stanford University.He was the university Chaplain at Tufts University from 1984 to 2000, and senior lecturer at the Harvard Business School for ten of those years. McLennan received his B.A. from Yale University in 1970 as a Scholar of the House working in the area of computers and the mind. He received his M.Div. and J.D. degrees from Harvard Divinity and Law Schools in 1975. In 1975, he was also ordained to the ministry (Unitarian Universalist) and admitted to the Massachusetts bar as an attorney.
Conservatives and liberals are all welcome to attend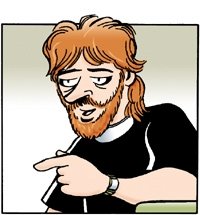 Date: Tuesday, May 26, 2009

Time:
7:30 pm Presentation at Kepler's Books
Location (Map):
Kepler's Books
1010 El Camino Real
Menlo Park CA, 94025
(650) 324-4321
Scotty and Garry Trudeau were roommates at Yale, and Scotty was the inspiration for Doonesbury's Rev. Scot Sloan.